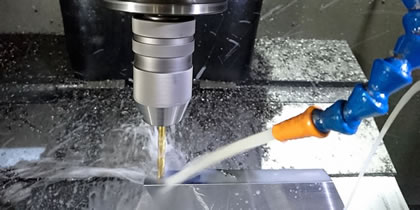 MACHINING
General-purpose milling, General lathe processing, Tapping process, Machining(small lot support), Iron, Stainless, Aluminum alloy, Copper alloy, Titanium alloy, Nickel alloy, Machining process(resin)
Machining is processing materials (machine parts etc.) using cutting tools and machine tools. There are various methods such as cutting, grinding and polishing. In processing, machine tools such as lathes, milling machines, drilling machines, grinding machines, NC machine tools, and machining centers are used.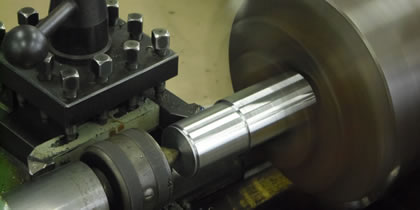 NC MACHINING
Machining process(vertical type), NC milling, NC lathe processing, Complex lathe processing
Numerical control machining is a machining method of a machine by numerical control (NC). The movement of the cutting edge of a cutting tool represented by a drill or the like is defined by coordinate values, and the servomotor built in the machine tool moves based on the information to operate the tool or workpiece and the machining It will be. Although it is necessary to input machining operation information of a series of cutting edges into an NC apparatus, a program in which this information is described is called an NC machining NC program.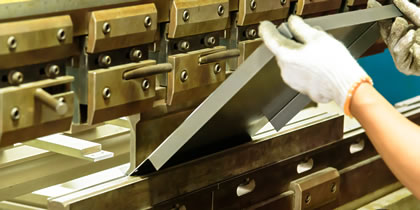 SHEET METAL FABRICATION
NC set press, Precision sheet metal processing, Manufacture of sheet metal trial product, Bender processing (hydraulic pressure)
Sheet metal and sheet metal (both old and old) are thin and flat metals. In addition, plastic working of the material at normal temperature is also called sheet metal and plating.
It is one of the basic shapes of metal materials, and can be processed into various shapes by cutting and bending. Many daily necessities are made from this material. Generally, those having extremely thin thickness are called "foil" and "foil", and those having 6 mm or more are called "thick board".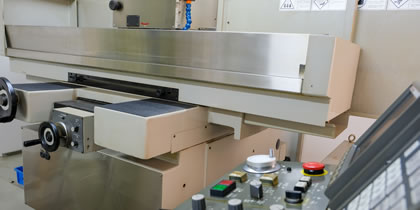 GRINDING
Surface grinding process
Grinding is a type of machining in which the surface of a workpiece is removed by a high-speed rotating grinding wheel to obtain a smoother surface than cutting.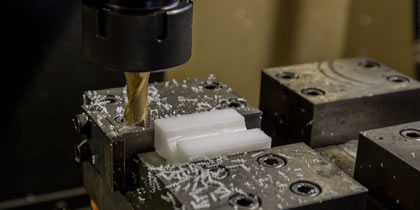 RESIN PROCESSING
Injection Molding, Plastic trial product processing, Punching
Processing using synthetic resin to improve the function of textile products. It is often performed to improve physical functions such as shrink-proofing, waterproofing, and shielding, but it may be performed with the aim of improving texture and texture. In almost all methods, the product is immersed in a resin solution, which is dried or heat-treated to fix the function.